Home and Office Furniture
Let us help you design your office, whether that is your home office or your corporate headquarters.  We can suggest the best ergonomic solutions for your environment and are well versed in the latest products available to help combat Covid-19 transmission.
No matter the size of your project the office furniture specialists at Manleys Basics can help to guide you towards the best possible solution based on your budget, design style, and environmental factors. 
Our
Services
Manleys Basics offers more than just office furniture.
FREE DELIVERY
We have trucks for both stationery and furniture deliveries in Lambton, Middlesex, and Chatham-Kent counties from Monday-Friday. Our trucks cover Sarnia-Wallaceburg 5 days a week. In addition our trucks go as far as Chatham and London on Tuesdays and Thursdays, unless you call in and schedule otherwise. All daily delivery routes are FREE of charge with no minimum order amount.
Rentals- Tables, Chairs and Office Furniture
Holding an event and need some rental furniture?
We can provide your furniture for several events: birthdays, elections, meetings, temporary offices, etc.  We have a variety of folding tables 4′, 5′, 6′, and 8′ in length and hundreds of stacking chairs that can be rented for days, weeks, months, or even years!
If you need a temporary office set up that looks more professional than a folding table and a stacking chair, we also loan several desking workstations: used or new.  Give our furniture department a call for more information…519-336-4940 ext. 238 or 239.
Used Office Furniture
We have an assortment of used office furniture – it varies every day. Please give us a call and let us know if there is something special you are looking for and we can source it for you.
We regularly stock used chairs, filing cabinets (lateral & vertical), desk stations, dividers, shelving, etc.  Please contact the furniture department for more information.  519-336-4940 ext. 240, 238, or 239.
Professional Drawings
Are you looking for a new desk or furnishing a new office?
Manley's has trained professionals that will come to your office, measure the space, work with you, provide a 3D drawing and quotation for your space to your budgetary needs.  If you purchase your new furniture at Manley's Basics the design fee will be waived.  If you choose to shop elsewhere there will be a fee of $45 per hour.
Contact our office space furnishing experts for more information:
Carolyn Leaver-Luciani – 519-336-4940 ext. 237
Larry Luciani – 519-330-1595
Free Quotations
Our experts at Manley's Basics will provide you with FREE price quotations for all of your stationery and furniture needs.  Please contact customer service for all of your technology and stationery needs at 519-336-4940 ext. 232 /234 /243.  For furniture please contact ext. 238 or 239.
Reconfiguration of Office Furniture
Are you moving, but would like to keep your existing furniture?
Here at Manley's, we can inventory your existing furniture into our stock during your move.  We have professionals at Manley's specially trained to work with you to design and do up professional drawings of where it will fit in your new location.  Our spacing experts, Carolyn Leaver-Luciani and Larry Luciani have over 44 years of experience in the furniture business between the two of them.  You can contact Carolyn directly at 519-336-4940 ext. 237 or Larry via email at larry@35.196.161.90.  For more information please contact our furniture department at 519-336-4940 ext. 238 or 239.
Movers
Certified Steelcase and Global trained installers are available for home and office moves. $70 per man per hour – including a truck.  Contact our furniture department for more information at 519-336-4940 ext. 238 or 239.
Ergonomic Lessons
Do you need something new for your health and safety meetings?
Or are you experiencing back, neck, shoulder, or wrist pain?  Manleys Basics has trained ergonomic specialists that can come to your location to evaluate your workstations.  Please call the furniture department for more information at 519-336-4940 ext. 238 or 239.
Installation & Delivery
Most furniture we sell includes free delivery and installation – unless the Screwdriver Logo is shown in the catalogue.  This symbol means that the item comes Ready To Assemble.  For Ready to Assemble items – we deliver free of charge, but you must pay $70 per man per hour for assembly.  Delivery is only charged for used furniture.  Our delivery on all regular product includes: delivery, furniture placement, installation, levelling and taking away all debris. Again the only exception is RTA and Used office Furniture.
Please contact our furniture department for more information at 519-336-4940 ext. 238 or 239.
Ergonomic Lessons
We are the specialists on office set-up. We can provide classes for your employees on how to work properly, how to organize their office, and office ergonomics. Please call us and we can work with you on how to better train your staff in these areas. $50 per hour.
Warranty Service
We service what we sell. Our trained staff can repair and maintain most issues that arise. We repair either on site or at our warehouse depending on the issue. We have a large stock of parts on hand.
Our Manufacturing Partners
Below are some of our most commonly used manufacturers. They range from some of the biggest names in office furniture to some that most have never heard of.  All of them offer something unique.  Let us help guide you to the best solution for your project. Contact us to set up a private consultation.
Click here to have a furniture specialist contact you.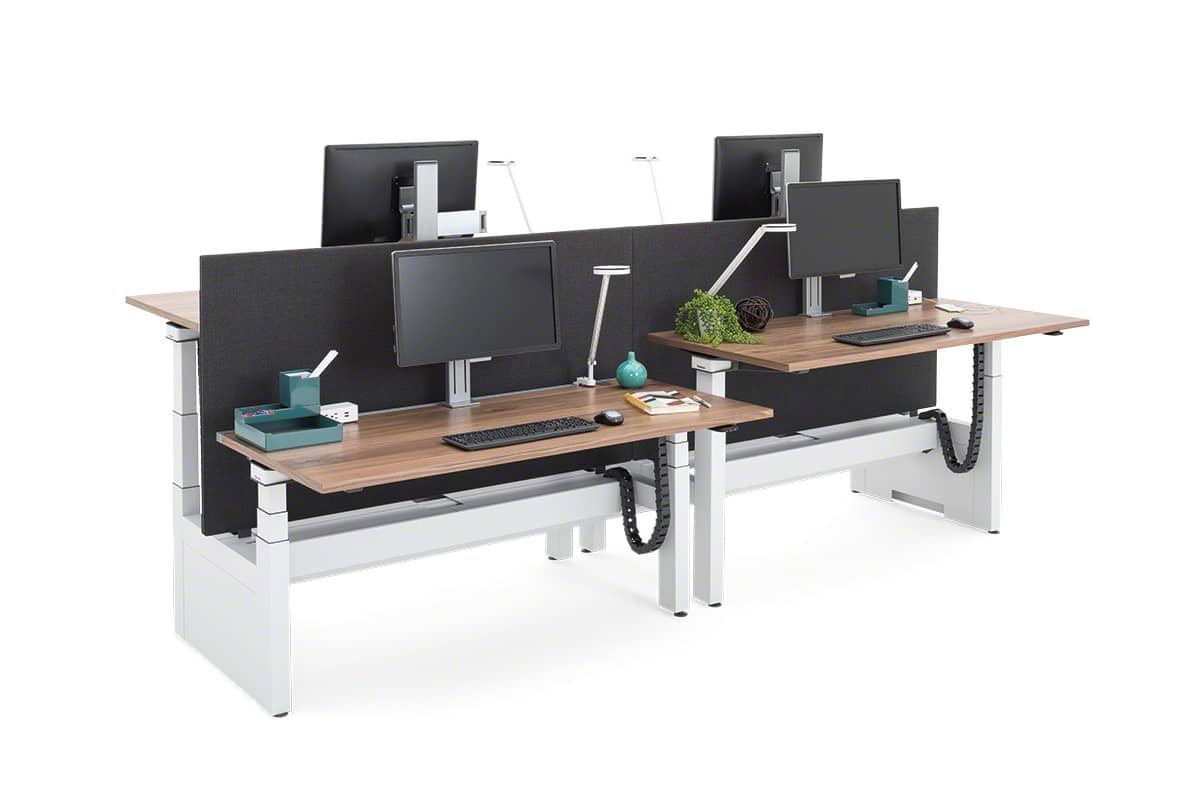 Steelcase leads the way in creating great experiences by offering a range of architecture, furniture and technology products and services designed to help people reach their full potential.  Steelcase leads office furniture trends by not only manufacturing but also by collaborating with IDEO to influence furniture design across a range of environments.  Steelcase products are simply some of the best available in the world.  Manleys Basics is one of only five exclusive Steelcase dealers in Ontario. 
Global Furniture is a Canadian  manufacturer with sales world wide.  Global offers a comprehensive portfolio of solutions that are designed and engineered to meet the changing needs of the Workplace, Education and Healthcare markets. Manleys was one of their first few customers when the company was just starting out so we have a deep rooted affiliation to this company.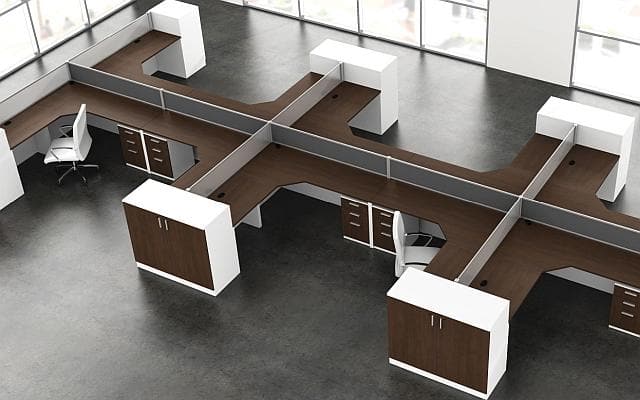 OFGO is located in Concord, Ontario.  Since 1980, OFGO STUDIO has been a comprehensive manufacturer of office furniture with experience in creating high performance workplace environments that fulfill the changing needs of the marketplace.
Global Contract is another arm of the Global Furniture family. Their approach is to focus on customer requirements; to develop products that minimize the costs of ownership; and promote customer satisfaction. They offer a wide range of Canadian built furniture from metal filing and storage cabinets to desks to tables. 
Founded in 1880 in Kitchener Ontario, Krug is a leading designer and manufacturer of office, healthcare, higher education and hospitality furnishings. Their products are specified by architects, designers and other furniture professionals for beautiful spaces, all over the world. 
Three H is produced in New Liskeard, Ontario. Unique in the office furniture marketplace because all of their products are created as requested. At Three H, their made-to-order design philosophy and production process means they can create your ideal furniture solution in the exact size of your choice.
Another Canadian company located in Toronto. Since 2001, fluidconcepts has been providing unique, design-driven, contemporary office furnishings for the workplace. Integral to fluidconcepts' vision of providing world class service and support ; fluidconcepts offers a uniquely high level of customization and design tailored to their customer's specific needs. They continuously strive to surpass client expectations from modern furniture design, to installation, to post-occupancy evaluation.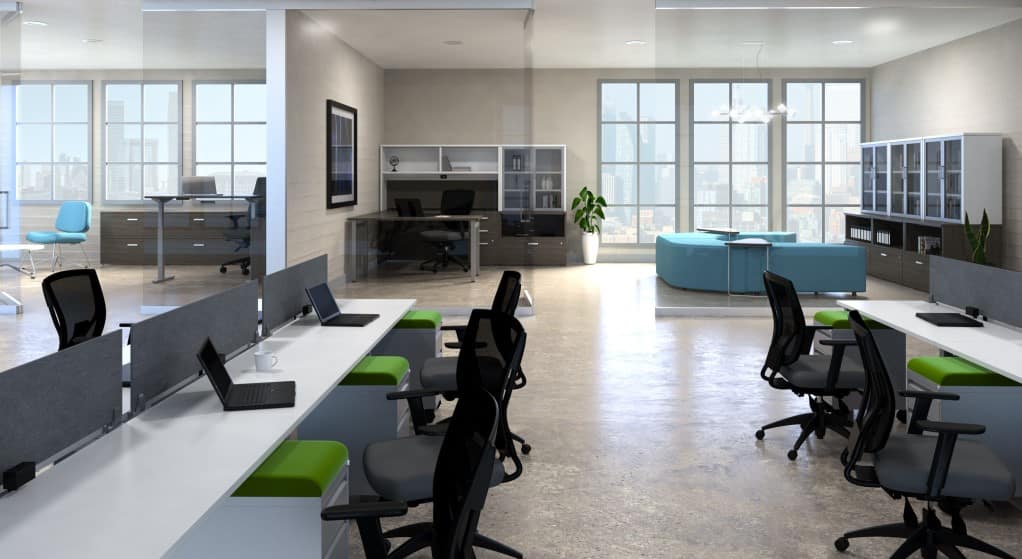 Offices to Go™, a division of Global Furniture Group has been a primary source of value-minded office furniture solutions since its inception in 2007. Their aim is to provide exceptional comfort and design while maintaining a value-minded approach. Some product is Canadian but others are made overseas to keep pricing low. 
Belair is a smaller company located in London, Ontario. Because of their size they are able to manufacture quality product quickly and efficiently. Their offering includes not only standard office furniture but also kitchenette furniture as shown.
HDL is a Canadian owned company that imports and stocks ready to go laminate office furniture.  They have a basic set of layouts that fit a majority of users. If you need it quickly they are a good choice.
Icon Office Environments is another locally owned company that offers simple design, high quality product, and quick delivery. Icon imports and stocks chairs, workstations, tables, and storage. They can get your office up and in business in just a few days. 
IOF is based in Missisauga, Ontario.  They have standard modular furniture sizes but also love to do special and custom sizes. If it is something unique in size or style IOF would love to quote it. They offer a full range of laminate furniture.
Links is located in Toronto, Ontario. Links Contract Furniture Inc. is a manufacturer of high quality office furniture with experience in creating high performance workplace environments that have inspired, challenged, and adapted to the changing needs of its consumers since 1995.
Safco is a US based company that offers mid-priced ancillary products and furniture. Many of their product are marketed towards the government and education market but find their way into the commercial and home markets as well.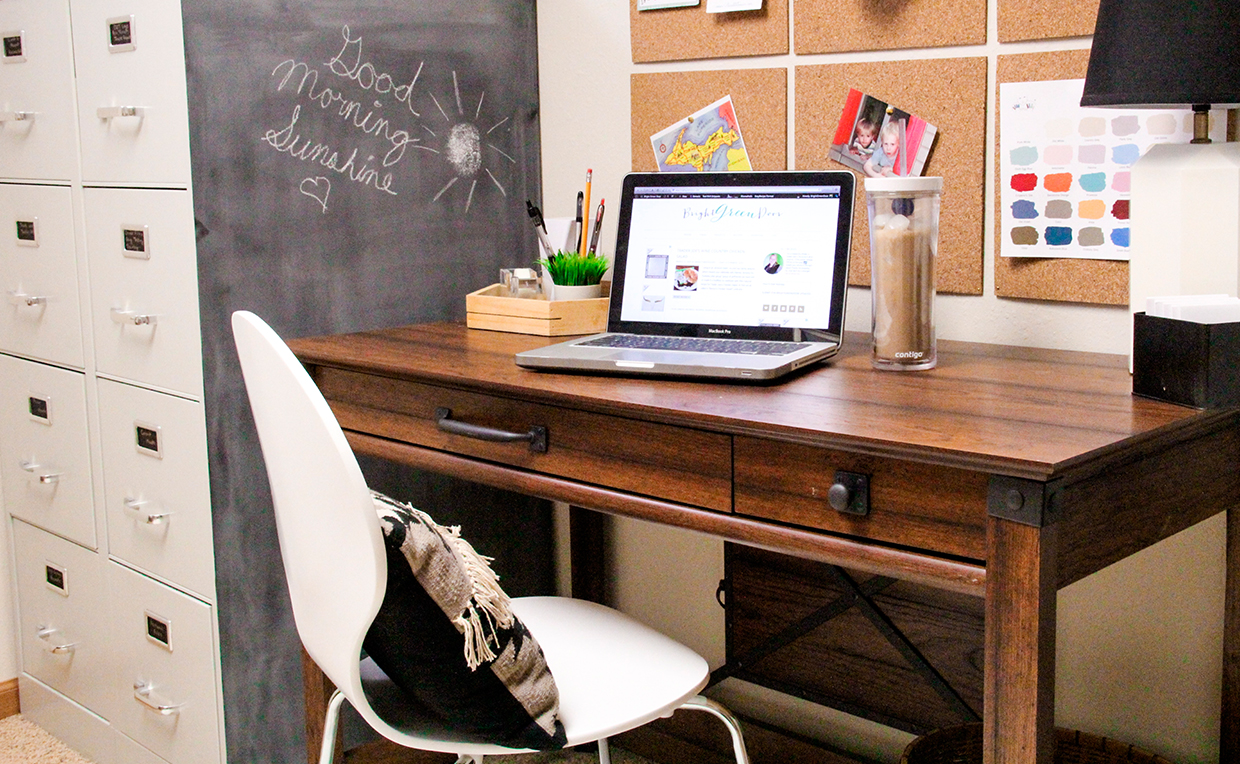 Sauder Woodworking Co. is North America's leading producer of ready-to-assemble (RTA) furniture and one of the top five residential furniture manufacturers in the United States. An authentic American original, 80 percent of Sauder® furniture is manufactured in Archbold, Ohio. Sauder is recommended for home environments and assembly is needed. This is one of the few lines that we charge extra for assembly if needed. 
The Steelcase site allows purchasing directly from Steelcase. If you choose to do this you will get a better price by using the coupon code  daManleysBasics10 upon checkout.  Generally Manleys Basics will provide pricing equal to or better than the website so please feel free to contact us with your wish list.
CLICK HERE TO CONTINUE