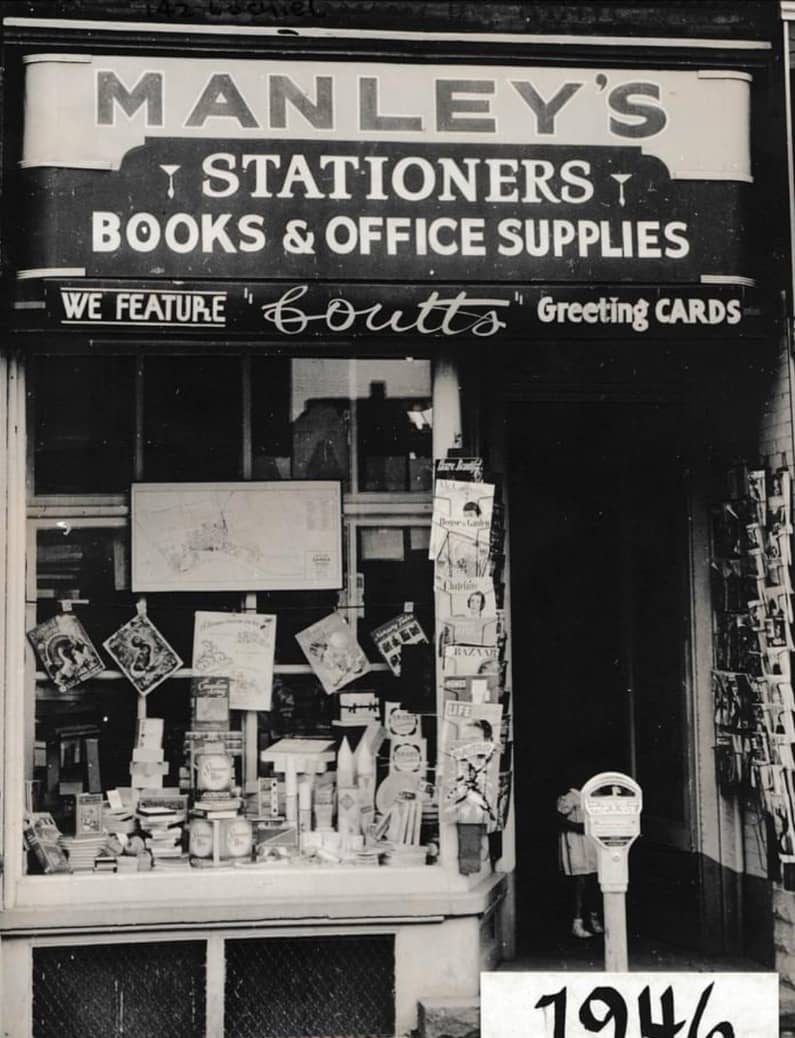 Manley's Basics is a family owned and operated business that has been proudly serving Sarnia and Lambton County for over 109 years!  Starting in the year 1900 Blanche and Tom Manley opened a small bookstore and newstand on Lochiel Street in Downtown Sarnia.  Manley's sold many interesting items throughough the years including Fleischmann's Yeast. 
 As young boys, Fred, Ted and Sid Leaver came over with their family from Barking, England and they landed in Sarnia.  Looking for employment the 3 boys went to work for Mr. and Mrs. Manley.  After the passing of Mr. Manley the Leaver boys (Ted and Fred)  moved up in the company to be the right and left hand for Blanche Manley.  Ted then took a job with CN rail and was due to be transferred to Toronto.  Fred was in the process of purchasing Manley's from Blanche and he asked Ted to stay in town to become his partner so the family would not be separated – to which Ted agreed.  Ted and Fred took over Manley's and continued to run a first class operation. 
In the 1960's Peter, the son of Ted, came back into the family business and started to look for interesting ways to expand their product offerings.  That was when Manley's started to carry Office Furniture.  Sunar, Sunshine and Steelcase were 3 of the first product lines that Manley's carried.  Ted Leaver retired and John Leaver, Peter's Brother, was looking for a change himself.  John took and early retirement from the teaching profession to come back in to the family business.  Peter and John continued to run Manley's until 2002, when 2 of Peter's daughter's – Lisa and Carolyn – decided to take things over.  So that is how Manley's got to be to where it is today.
In 1983 Manley's became a part of Basics Canada – a buying group made up of other Canadian Stationery and Office Supply stores.  Being part of Basics gives Manley's Basics Millions of Dollars of buying power.  Manley's Basics is still owned locally by the Leaver girls, but the buying group negotiates our sales discounts with our vendors and they produce our Catalogues and Monthly Flyers.  With the closing of the Lochiel Street Store in August of 2009, Manley's is planning to start the next leg of it's journey.  One single supply source, to better serve our customers in a more timely manner, with plenty of free parking was the goal, and this has been acheived.  Come Watch us Grow!  You will be seeing many changes at Manley's Basics over the next few years – please grow with us!
Come and visit our new location at 152 Kendall Street in Point Edward!